Urizen 1Bit Tilesets
Sci-Fi tileset announce, Patreon launch and plans for the future
---
Hello everyone!
I want to announce the next two tilesets: sci-fi tileset and multitile tileset (for large bosses, structures etc). Here is the example of some sci-fi tiles: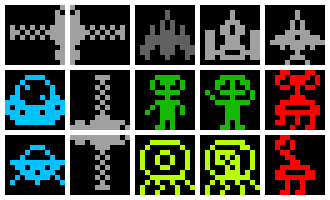 Multitile tileset was an idea that appears after several questions in comments. I think it is a good idea to create large-scale monsters, maybe even animated!
I also want to announce my newly created Patreon! The main tileset is (and will be) under open CC0 license, but patrons will have some additional exclusive mini-tilesets.
The main project is a bit slowed because of tilesets and my main work, but it will be evolved and developed. I am working at GUI and various format export (like TMX). After it Urizen will be suitable for non-programmers.